During the next several weeks I'm going to be sharing the most common mistakes I see schools making when they want to recruit women to STEM and CTE Online and what to do instead.  These will be followed by the top recruitment secrets. So let's dive in.
Mistake #1: Your website landing page for your program has all males in the photos and videos or maybe just one female student.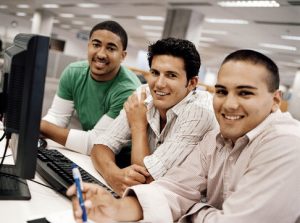 Most women will not be able to see themselves in a program where no one looks like them, so they won't enroll. It's just that simple.
 Rule #1: 50% of your program's photos and videos need to show female students.
I know what you are thinking. What if you only have one female student? There are always workarounds. For example, you can highlight her and one male student and do an in-depth profile of each. There are many ways to send the message that women are welcome on your website landing page, even if you are in a field that is only 2% female, such as automotive technicians.
I worked with an automotive program in San Jose, California, that had 50 years of class photos on their walls of past students, almost all men. To counterbalance this, they put a 6-foot banner of women in Automotive Careers on the wall next to the photos. This sent a much more welcoming message to their 8 incoming female students.
Are the photos and videos on your program's landing page gender-balanced? Please comment below on what you found when you looked at your program's landing page. Did you find a workaround? Please share it with the WomenTech Educators Community.
Until next week…
Warmly,
Donna
PS Want to learn more about Recruiting Women Online? Sign up for my *new* webinar, "How to Recruit Women Online to STEM/CTE During a Pandemic" on Friday, February 12.