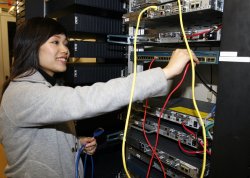 I am happy to see that U Mass's Computer Science (CS) Department added photos of women to its homepage. Out of seven photos–two now feature women! Unfortunately, the photos of women don't show them working in the field with equipment as photos 1, 2 and 4 do for the males. The photos now show a woman writing on a board in a classroom setting and two women in an office setting. One of the recommendations IWITTS makes in our WomenTech training is that photos are taken of women working with equipment. Too often women are portrayed in "passive" roles in the workplace while males are in "active" roles.
A faculty member who was on U Mass's Computer Science website redesign committee commented on my previous blog article and posted additional URLs where we can see photos of women in Computer Science. I applaud that U Mass CS has these specialized programs for women. They should feature them on their homepage. I do still think that the homepage needs to have an equal or close to equal number of photos of female and male students (equally engaged in hands-on activities). Many women wouldn't bother to go past the homepage, if the images are all male (or almost all male).
Readers, please comment about other STEM/technical education school websites with photos of all male students AND if you know of a website that shows half female and male photos we'd love you to comment about that, too!