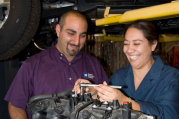 One of our CalWomenTech community colleges recently received some great news: Their recruitment efforts have paid off after 2 years of participation in the Project.  The introductory auto and welding classes at Las Positas College have gone from a baseline of 5.4% women to 14.3% in spring 2010. Last year we reported to our funder, the National Science Foundation, that recruitment progress in our trades-focused CalWomenTech sites has been slower than with programs in computer-related technology (some of which have gone to half women), so this leap is a true breakthrough. 
How did they do it? Las Positas has been persistent in their proactive efforts to recruit female students, and has gotten local press to help do their recruiting for them:
Scott Miner, a welding instructor at Las Positas, also attributes some of their success to the current emphasis in his industry on recruiting women. Recently a young woman won the American Welding Society's welding contest. Watch the YouTube video to see Carissa Love accept her award. 
 Early in the Project, Las Positas increased the retention of all their students-females went from a 74% completion rate to an average of 98% and males went from 88% to an average of 96%-and with their recent  recruitment successes they are well on their way to meeting their goals.  Congratulations Las Positas!
Have any of your trades programs been successful in recruiting and retaining women? Comment and tell us your success story. Rosie the Riveter did a great job welding during World War II; no reason she can't do so today!
Would you like to receive the same training Las Positas College did at the beginning of the CalWomenTech Project?  I am leading a National WomenTech Train-the-Trainer Workshop on June 28th and 29th, and I'd love to provide you with the in-depth training to help your school succeed in recruiting and retaining women and girls to your trades and technology programs. I hope to see you in San Francisco at the end of June!